Spring Soirée Fusion Box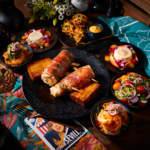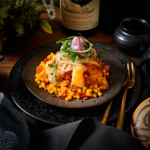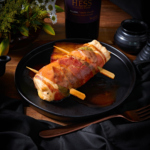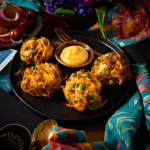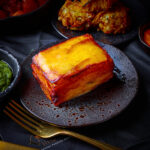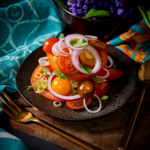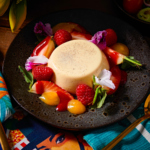 Experience the flavors and textures of spring with this delectable new box.
Serves 2 and includes Free Shipping.
Menu
King Prawn Salad, Persian Jewelled Couscous, Pickled Vegetables.
Savor the taste of succulent king prawn tails cooked in garlic and chili oil, paired with jewelled giant couscous and complemented by the freshness of mint, sweetness of golden sultanas and tartness of pomegranate seeds, topped with crunchy toasted pine nuts and balanced with the tanginess of pickled red Spanish onions and cucumber.
Spring Vegetable & Feta Pakoras
Enjoy the fresh taste of spring with our new dish featuring baby peas, aged feta, seasonal vegetables, and mint fritters. Served with a creamy saffron aioli, this dish is a perfect complement to the vibrant flavors of the season.
Supreme of Chicken Saltimbocca
Saltimbocca' translates to 'Jump in the Mouth' and is one of the most famous dishes in the Roman Culinary repertoire. Tender Chicken Breast wrapped in aged Serrano Ham and fragrant Sage leaves. We've added a twist with a luscious melted Manchego cheese center and a zesty lemon-infused jus, making it an unforgettable culinary experience. (x2)
Crispy Potato Millefeuilles
Enjoy the crispy and delicate slices of potato, slow-baked for 3 hours, pressed for 24 hours, and finally deep-fried to perfection.
Tomato And Red Onion Salad
Indulge in the taste of spring with our dish of seasonal tomatoes paired with aromatic basil, zesty red onions, and crisp spring onions, all dressed in a flavorful tarragon vinaigrette.
Spiced Rum Panna Cotta With Seasonal Berries
Satisfy your sweet tooth with our delicate set cream infused with a touch of spiced rum and served with seasonal berries, perfectly balanced with a refreshing bitter orange and citrus curd. (x2)
£64.95