Tapas Fusion Date Night Box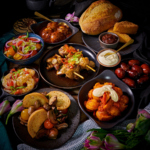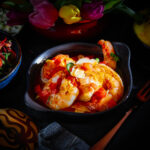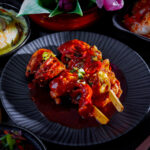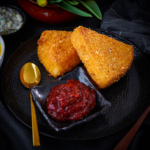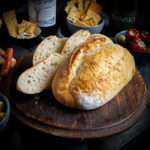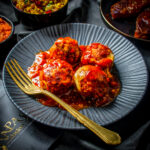 The Tapas Fusion Date Night Box is perfect for a romantic dinner date, a chilled-out movie night, or simply a night in in! So easy to prepare, this high-quality Fusion Tapas meal is ready in just 25 minutes.
Serves 2
Menu
Albondigas:
Delicious Tender Meatballs, gently cooked in a rich Tomato Frito sauce with Chorizo & topped with Manchego Crumb.
Queso Frito
Duo of award winning sheep's cheese deep fried in a crisp almond and hazelnut crumb with a deliciously creamy molten cheese centre. In homage of Mercado San Miguel in Madrid. Served with a rich and fruity port and fig chutney. Endulgent start to any tapas meal!
Champiñones Al Ajillo – Garlic Mushrooms
Seared Chestnut and Field Mushrooms, with shaved Garlic Cloves, Baby Spinach and Cherry Tomatoes, with a Garlic trencher.
Cider-braised Mini Chorizo:
Bites-sized baby Chorizo slowly braised in cider with a rich indulgent Rioja, honey and grain mustard jus.
Gambas Pil Pil – King Prawns With Chilli & Garlic
A classic favourite, plump King Prawns seared in a Smoked Paprika and Chilli Oil with a hint of Tomato and opaque, thinly sliced Garlic. With an amazing aroma, these Prawns taste out of this world! Enjoy with an slice or two of our Garlic Brushed Sourdough.
Grilled Chicken Anticuchos:
Succulent Peruvian-style Chicken Skewers in a sticky Chilli & Spring Onion glaze
Fusion Patatas Bravas With Allioli Dip
Chef Prescott takes this traditional potato dish to another level. Baby potatoes, sautéed with garlic, piquillo peppers in our spicy tomato frito sauce. Now comes with a 120ml pot of our Allioli dip.
Tomato & Red Onion Salad:
Classic Spanish Tapas Dish with a Fusion twist – melt in the mouth peppers sprinkled with a Nori & Chilli Salt.
Rustic Sourdough Bread
Our Artisan Sourdough is freshly made everyday and brushed with Garlic infused Extra Virgin Olive Oil.
Allergens: Milk, Eggs, Mustard, Gluten, Sulphates, Nuts.
*Coupon can't be used in conjunction with other coupons aside from those generated with your Tapas Fusion Points.
£75.00